Great finds, great walks: the Easter bunny meets sand scorpions in the dunes of Lake Moses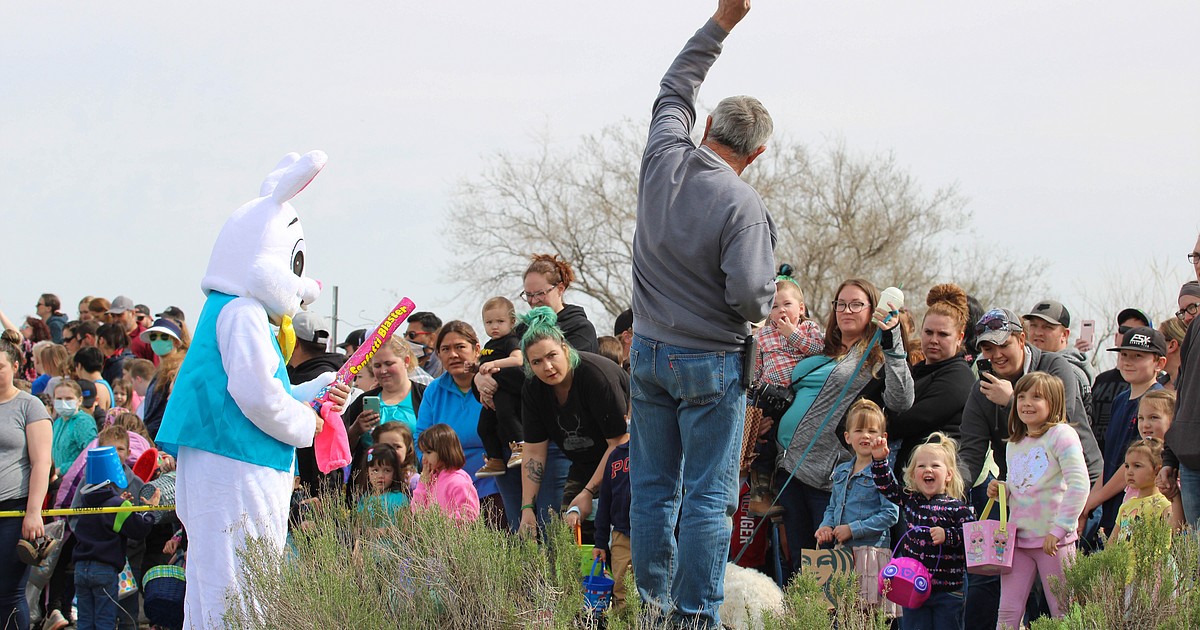 Each region seems to have its unique Easter traditions, and Lake Moses is no exception.
For 10 years, the Easter Bunny made an appearance in the mudflats and sand dunes of Lake Moses a day before the typical Sunday celebrations.
Sand Scorpions ORV group leader Rich Archer started the annual egg hunt around 2011. The group was already doing it in their respective backyards, he said, so why not go out to the dunes? From there it only grew.
On Saturday morning, more than 100 families crowded against the fence at the eastern end of the sand dunes, barely containing their excitement at the 20,000 eggs, toys and games spread over eight acres of shrub steppe and sandy hills.
The Easter Bunny and his friend the Easter Duck circled the excited kids, waving and hugging them.
As Archer made an announcement to the crowd, each child had to listen intently to the word "go."
"Try not to hurt anyone," he said instead. "I want everything to be picked up."
And then the word finally came. The scramble of children stormed the dunes, filling the baskets with as many eggs – sitting in soft sand or tangled in mugwort – as they could.
One thing was different this year, Archer said. The Lioness Club of Moses Lake, a non-profit women's organization, filled an egg with a certificate to claim $ 100.
They call it "the golden egg," said Peny Archer of the Sand Scorpions, but in truth, it is indistinguishable from the rest. It could be anywhere.
In less than 30 minutes, the egg-speckled landscape was bald again. The kids had sifted the plastic and chocolate sand, which gave each a lot of eggs to fry for the price.
But the event did not end there. Immediately after the pleasure of children came the pleasure of adults.
The diehard Scorpions met for a poker race, an intense race across the dunes with five saves, Archer said. Each runner put in $ 5 to play and at each stop the runners were awarded a hand of poker through an app. At the end of the run, the winner of five hands received the pot.
"Everyone's having a lot of fun coming here and doing this stuff," Archer said.
And will be for years to come, he added.