Santa Claus, the Easter Bunny… and the opossum Matariki?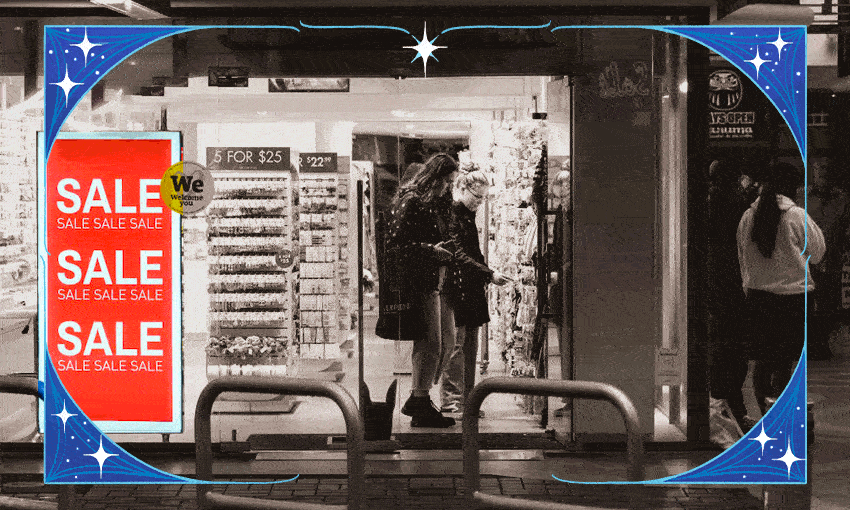 This year, Aotearoa officially celebrates Matariki as its 11th public holiday. But is it tika for companies to cut prices in honor of a culturally significant occasion for Maori? Reweti Kohere finds out.
The star cluster known since antiquity as the Pleiades heralds a new year for some iwi when it rises in the middle of winter. Known in Aotearoa as Matariki, the annual astronomical event has crossed our skies since time immemorial, marking an occasion to reunite with whānau and friends to remember the year that has been and the loved ones that have been lost at this time, celebrating the year that is and anticipating the year that will be.
New Zealanders will officially celebrate Matariki on Friday June 24 for the very first time, as their 11th public holiday. But while Matariki is not like today's Christmas and Easter, saddled with the commercial baggage of gifts and chocolate, some people are already worried that it will become a lucrative exercise. Astronomer Dr Rangi Matamua (Tūhoe), who chaired a group advising the government of Aotearoa on the first indigenous holiday, told RNZ that commercialism had transformed the birth and death of Jesus Christ, for example, in "Flying Reindeer and Santa Claus" and "12-foot bunnies that lay chocolate eggs". Mātāmua added that he would hate to see the "Matariki possum".
Such a symbol may not exist (yet) but Matariki sales could well be underway, with heavily discounted goods and services, special promotions or collaborations that match the meaning of the event. Lewis Road Creamery dairy shop, famous for its milk chocolate collab along with Whittaker's, sells a limited-edition drink honoring Matariki, but according to company president Prem Maan it was made "for the party, not for the profit." Only 40,000 bottles were produced, all for the month of June alone. "We won't make any money in such a short production period," Maan says. "Instead, we took real pleasure in creating something special to share the fruits of our labor and celebrate a fantastic national holiday."
Lewis Road Creamery has partnered with iwi-owned Pouarua Farms to produce the 'winter spice' drink, which has notes of ginger root, black pepper, caramel, spice and horopito harvested in the Ruapehu region. Known for its tangy, peppery taste, horopito originated in Aotearoa and was used by Māori to treat stomach ailments, diarrhea and poor circulation.

Horopito also makes an appearance in "rākau pepa" gouda, an exclusive cheese made by family cheese makers Meyer Cheese for Matariki. Cheese was born late one summer evening, during a conversation between cheese chef Miel Meyer, his sons and an old high school friend. Meyer came up with the idea of ​​combining the company's expertise in Dutch-style cheeses with local ingredients like horopito and kawakawa to create homemade gouda. "While this is a small gesture, we hope to support Matariki by building trust and knowledge around a small part of Maori culture and our appreciation for it," Meyer says.
Beyond these boutique products created to mark Matariki is the much larger question of the marketing of the day itself. For retailers, making money from the new holiday is necessary if they want to cover the day's costs, including time-and-a-half pay and vacation pay; the alternative is to close on Fridays and run out of revenue. Estimates from the Department of Business, Innovation and Jobs suggest Matariki will cost businesses between $337m and $448m, although these figures do not take into account any potential economic improvement from stores opening their doors. to customers with a full day off.
Tania Rupapera (Ngāti Kahu, Ngāruahine) understands the business pressures businesses like hers face on public holidays. Owner of Unity Collection, a contemporary Maori art gallery in the town of Matakana, north of Auckland, Rupapera gives her small staff a paid day off if a public holiday is a normal working day for them, and will work instead herself in the workshop or will close for the day if she wants to spend time with whānau. "I will make that decision before I make a business financial decision for the business," she says, adding that she hasn't decided yet whether she will open or close Unity Collection on Matariki.
For Rupapera, making money comes after running a business that values ​​manaakitanga, whanaungatanga and aroha. Stocking over 50 Maori designers whose products range from raranga, kakahu and taonga at mahi you and rongoa, Unity Collection has only been open for 18 months in a city which, according to the 2018 census, is predominantly inhabited by Pākehā (94%) and where only 1% of the population speaks Te reo Māori. The affluent residents of Matakana, Pākehā, may not have much to do with Maori culture, but they are eager to learn, says Rupapera, and Unity Collection is often the bridge that connects the two.
Likewise, Matariki brings people together. Rupapera is aware that an all-Indigenous holiday comes with a responsibility to teach people about its importance to Maori. "Buying a set of sheets or a toaster – whatever it is – I can do it anytime I need it, not just because it's discounted," Rupapera says. "But there are so many important things in life. It's just about remembering what they are, connecting with that and not filling the void with the commercialism of buying things, which have little value or importance or don't bring not that wairua in your life.
Tauiwi business owners can make money on Friday – while doing it mindfully, she says. "Bring to it what you can, however you can, with confidence."
During Matariki, Unity Collection is hosting a series of community events, including a free, invitation-only screening of the film Whina, about the life of Dame Whina Cooper; a putiputi weaving workshop taught by Unity Collection team member Cherie Williams (Ngāti Manuhiri, Ngāti Wai); and a poi wānanga hosted by Te-Rina Gregory-Hawke, the founder of e-commerce pakihi Poi Yeah. Gregory-Hawke (Ngāti Whātua, Tainui, Ngāpuhi and Ngāi Te Rangi) has heard of Matariki since birth – it is also his middle name. "I learned this through my whānau, through my kohanga, through my kura and throughout my life. It's not just a single piece. »
But she is preparing for the inevitable. "We will definitely see signs in windows saying '50% off, Matariki sale now, enter here,'" says Gregory-Hawke, a scare based on his experience running wānanga for government organizations. These meetings, where the cultural needs of the organizations were met before the needs of the Maori, were nothing more than "tick box exercises", she says. "Consulting Maori is often an afterthought, and it doesn't approach us in a tikanga-based way."
Gregory-Hawke expects many lessons to be learned from the first official Matariki celebration – lessons that will differ depending on each rohe's tikanga. But this is where iwi experts and Maori cultural consultants can help people approach the holiday the right way. Even with her upcoming poi wananga, a fun and safe environment to ask questions, learn, and pass on knowledge to others, she is keen for whakamana participants to try. "Matariki this year will be bigger than it has ever been, and it will continue to grow," she said. "Year after year, every time we celebrate, everyone is going to start knowing more because it's official."
---
Follow our te ao Māori podcast Not ? on Apple podcast, Spotify or your favorite podcast provider.